Klahanie Kamping
1144 Victoria Road
Aylesford
Nova Scotia, B0P 1C0
(902) 847-9316
klahaniekamping.ca/
Klahanie Kamping is a campground or RV park located in Aylesford.
With 150 sites for trailers, full hook-ups, wooded and lakeside tentsites, two swimming pools, a playground, lakes and boats, hiking trails and more, we look forward to welcoming you to our campground. Klahanie Kamping is a hidden gem in the heart of the Annapolis Valley in Aylesford, Nova Scotia. The campground offers a variety of open and wooded camping sites on 75 acres of land with a beautiful pond. We have a variety of organized activities and recreational facilities for the entire family. Oaklawn Farm Zoo is located just 5 minutes away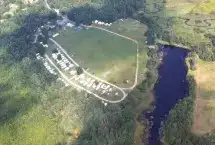 Location of Klahanie Kamping

The information displayed here is displayed 'as is', including address, photographs and telephone information. Please check the listed website ( if available ) for up-to-date information, prices and availability. Where to Camp Canada is not responsible for the content of external websites. If you are the owner or operator of Klahanie Kamping and wish to update or modify the content on this page including room details, specials and getaways or availability, please use our submission page.
Other info
Local dining options close to Klahanie Kamping include Fu Wah Restaurant, Fu Wah Restaurant located at 2716 Highway #1, Kellock`s Licensed Eatery approximately 5.0 km away, Kellock`s Licensed Eatery, and China Village Restaurant.
Other nearby accommodations options close to Klahanie Kamping include Fundy View Campground & Restaurant approximately 16.5 km away, Rocky Shores & Seals Cottages approximately 16.0 km away, By The Dock Of The Bay Cottages located at 28 Haddock Alley, Creekside Bed & Breakfast located at 140 Highway 221 approximately 8.8 km away, and Harbourville Cottages & Guest House.