Featured Campgrounds
If you are looking for a quiet, relaxing and picturesque place to spend your vacation, Bancroft, Ontario is the place to be. Looking for seasonal sites, we have full service and hydro sites available with 30 amp services. Sites overlooking the lake are soon to be available. Bancroft Campground is seated on a level 103 acre parcel of land, surrounded by acres and acres of forest. The campground itself has been developed on 10 acres, however we are always expanding and adding more private, and secluded tenting camp sites.
Escape to Indian River Family Resort. A place where your mind, body, and soul will relax and become one with nature. We are close to the city of Peterborough but far enough away from the hustle and bustle of city life. close by is the Indian River Reptile Zoo and also go carting, Golf and much more. Drive to downtown Peterborough to see a free concert at Peterborough Music Fest
With large grassy sites, our clients enjoy a quiet atmosphere, geared towards rest and relaxation. Whether you are cycling on the Thousand Islands Bikepath, or lounging beside the pool, this region will offer sites and activities for all. We are pleased to offer daily, weekly, monthly and seasonal rates. At The Rockport Lighthouse, our reputation for exceptional customer service and competitive pricing ensures your complete satisfaction during your stay. For your safety, we test our well water every two weeks. Whether you're bringing your own RV or renting a camper from our facility, we have all your camping needs covered. Offering daily, weekly, monthly and seasonal rates, we provide a restful retreat for travellers of all ages and types, so we encourage you to bring the family and stay awhile!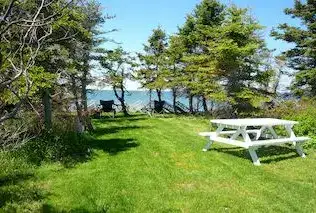 Camping La Vague offers tenting and trailer sites on Chaleur Bay, in open or wooded areas. Enjoy the 48kms of beaches that this island paradise has to offer.
Lahave River Campground is centrally located in the beautiful South Shore of Nova Scotia, near Lunenburg, Mahone Bay and Bridgewater. A short drive to the scenic Annapolis Valley as well. Luc & Angela (along with the friendly campers), invite you to come camp with us in Newburne this summer! We offer you fun camping at our secluded 16 acre riverside campground. Located in Newburne on the north branch of the Lahave River, we lie at the foot of a hill 250m (700 ft.) away from the highway, so there's no road noise! Come out and enjoy the sights and sounds of nature!