Century Farm Family Campground
67 Ocean Wave Drive
St. Martins
New Brunswick, E5R2E8
(506) 833-2357
centuryfarmcampground.com/
Century Farm Family Campground is a campground or RV park located in St. Martins.
Century Farm Family Campground is located on the original grant of land issued to Mathias Moran in 1783. The property has been in the Moran Family since that time. The property presently consists of 100 acres of forest land and 25 acres of agriculture land.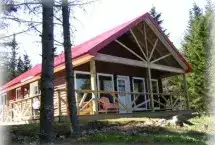 Location of Century Farm Family Campground

Other info
Local dining options close to Century Farm Family Campground include Fiori's Restaurant/Salmon River B&B, Fresh Lobster Rolls Shack, Coastal Tides Restaurant located at 7 Beach Street, St. Martins Country Inn Restaurant located at 303 Main Street approximately 0.2 km away, and Jeremiah's Deli located at 47 Charlotte Street, St. Martin Market.
Nearby accommodations include Serendipity By The Sea approximately 0.5 km away, Tobis Hideaway, Gull Cottage at Lighthouse Road, Hampton Bed and Breakfast, and Seaside Tent & Trailer Park located at 234 Main Street approximately 0.2 km away.