Dhoon Lodge
Black Duck Siding
Stephenville Crossing
Newfoundland, A0N 2C0
(709) 646-5177
www.dhoonlodge.ca
Dhoon Lodge is a campground or RV park located in Stephenville Crossing.
Dhoon Lodge R.V. Resort offers something for everyone; we have 32 fully serviced R.V. sites with some of the biggest sites in Newfoundland. Measuring at over 3000 square feet each site has electrical and septic service, along with a fully licensed lounge and restaurant on site. If the campground is not something you are looking for we also have motel style units that have a rustic country charm once you step inside. We are proud of what we have to offer but most of all we are proud of where we offer it to. Harry's River runs adjacent to our 23 acres of property and is one of Newfoundland's best Salmon Rivers.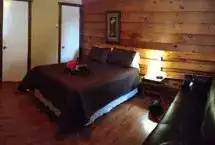 Location of Dhoon Lodge

The information displayed here is displayed 'as is', including address, photographs and telephone information. Please check the listed website ( if available ) for up-to-date information, prices and availability. Where to Camp Canada is not responsible for the content of external websites. If you are the owner or operator of Dhoon Lodge and wish to update or modify the content on this page including room details, specials and getaways or availability, please use our submission page.
Other info
Places to eat within 10km of Dhoon Lodge include Chateau Family Restaurant approximately 7.7 km away.
Nearby accommodations include Henrieta's Bed and Breakfast, Zenzville Campground located at 446a Kippens Road, Holiday Inn located at 44 Queen Street, The Palace inn approximately 14.1 km away, and Stump Lodge.