Harbeth House RV
Highway 21 North
Unity
Saskatchewan, S0K4L0
(306) 228-2391
harbethhouservunity.com
Harbeth House RV is a campground or RV park located in Unity.
Harbeth House RV is located in Unity, SK on Highway 21 North. The campground is within town limits, and is close to the community centre, museum grounds, swimming pool and ball park. The park boasts a quiet farmyard setting with hook-ups of water and 30 amp power. Fireplaces with wood supplied. Enjoy the quiet beauty of a variety of mature trees, a large green area and well kept grounds.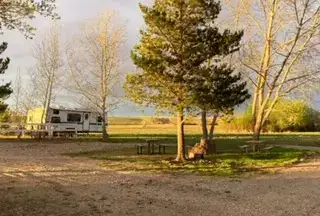 Location of Harbeth House RV

The information displayed here is displayed 'as is', including address, photographs and telephone information. Please check the listed website ( if available ) for up-to-date information, prices and availability. Where to Camp Canada is not responsible for the content of external websites. If you are the owner or operator of Harbeth House RV and wish to update or modify the content on this page including room details, specials and getaways or availability, please use our submission page.
Other info
Places to eat within 10km of Harbeth House RV include A & W Restaurant approximately 0.6 km away, Subway located at 700 1st Avenue East approximately 0.2 km away, M & J Restaurant, Star Express Chinese Food, and Unity Hotel Restaurant located at 114 Main Street approximately 0.2 km away.
Other nearby accommodations options close to Harbeth House RV include Wilkie Motel approximately 19.4 km away, Wilkie Regional Park approximately 19.3 km away, Armada Inn Motel located at 1st Avenue and Highway 21, and Unity And District Regional Park.